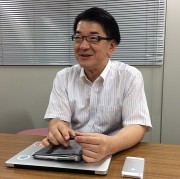 CRIMSON TECHNOLOGY, Inc. is established in 2002
and its business target was to create a new market for music on the internet.
Now we have been recognized as one of the top companies
for developing various music applications
and providing many music titles for music delivery services.

---
Kazuo Hikawa
President of CRIMSON TECHNOLOGY, Inc.
---
Currently, people can get a lot of things that are virtual/real or digital/analog on the internet.
But Creators notice that these are not what people really needs.
CRIMSON will always search for what it is for the splendid future.