---
brAInMelody - Automatic Music Generation System with Brainwave
Measuring the brainwave information while listening to some songs, the system makes composition rules suitable for your mental condition and generates a new song that activates your mind with genetic algorithm method and symbiotic evolutionary technique. The system is developed by CRIMSON TECHNOLOGY, Inc. in partnership with Prof. Masayuki Numao(Osaka University), Prof. Noriko Otani(Tokyo City University) and imec(Belgium research institute) under COI project.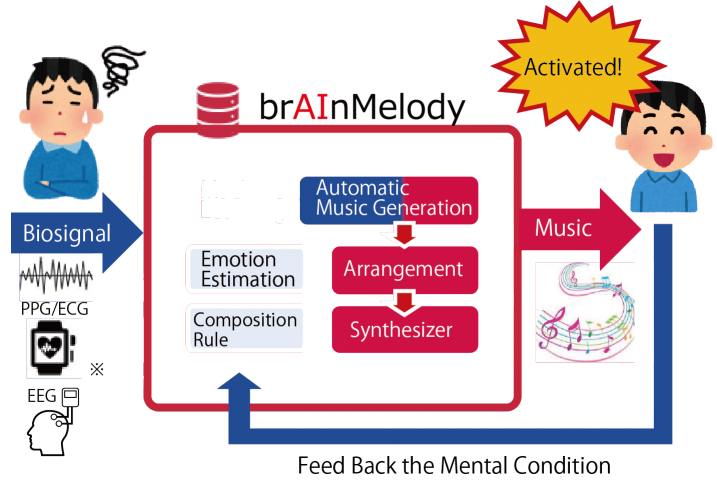 Possible Use Case
Sleep Inducing
Improving Work Performance
Relaxation for Drivers
Making Music for Restaurant
※ PPG:Photo Plethysmography ECG:Electrocardiogram EEG:Electroencephalogram
※All information including product specifications, is current on the date of the press announcement, but is subject to change without prior notice.
※brAInMelody is developed by CRIMSON TECHNOLOGY, Inc in partnership with Osaka University and Tokyo university and imec.
※brAInMelody is a trademark of CRIMSON TECHNOLOGY, Inc.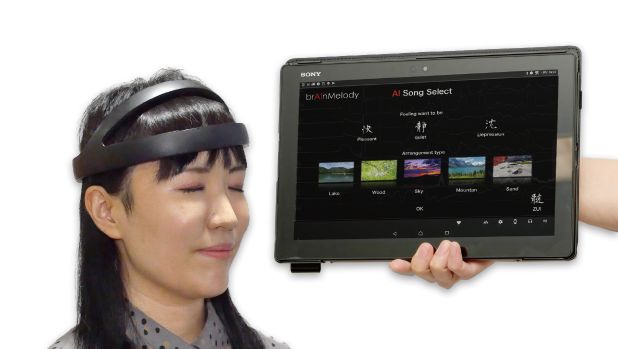 Healing Music Application by brAInMelody
brAInMelody is now being customized for healing music application. Based on the emotion pattern selected on the screen and brainwave information measured by EEG, AI will automatically generate a healing music which fits your mental condition, and then you can change your mental condition the way you want.