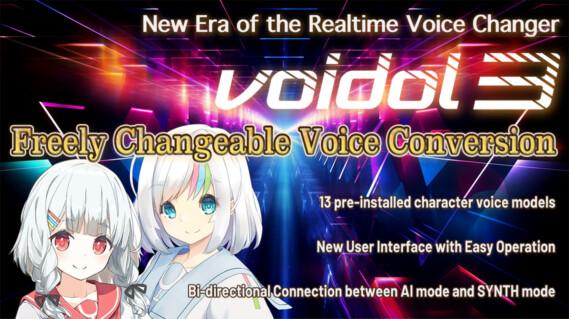 Voidol is an AI real-time voice changer that has won numerous awards, is used in many business situations, and has received high praise from various quarters.
The latest version, Voidol3, is equipped with a two-way connection function between AI mode and SYNTH mode.
The range of voice creation has expanded greatly, and we have achieved unprecedented voice transformation!
Additionally, initial bundle characters have been significantly added and preset functions have been improved.
The user interface has also been redesigned to be easier to use and has been significantly powered up!
---
The upgrade version can only be upgraded from Voidol2. Updates from the original Vodiol are not supported.

Voidol3 can be installed side by side with the original Voidol or Voidol2, but they cannot be used at the same time.
You can use the purchased voice model as is.
Of course, reinstallation to the current voice model Voidol3 or new installation is also possible.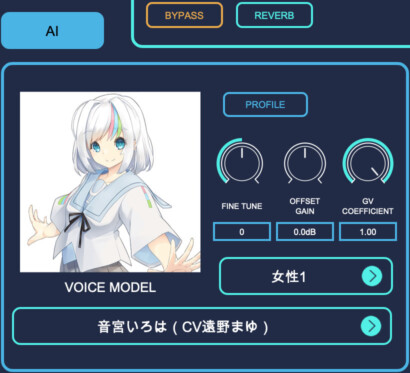 Cutting-edge voice change using AI
「AI Mode」
In AI mode, real-time AI voice quality conversion is realized that uses R.C voice technology to change the input voice into the voice of a specific character in real time.
The number of initial bundle characters has increased significantly from the previous 7 characters to 13 characters.
You can enjoy a variety of voice conversions immediately after purchasing the main unit.
There is also a rich lineup of voice models sold separately. The variety of voice conversion is even wider.

>>Click here for technical explanation of Voidol AI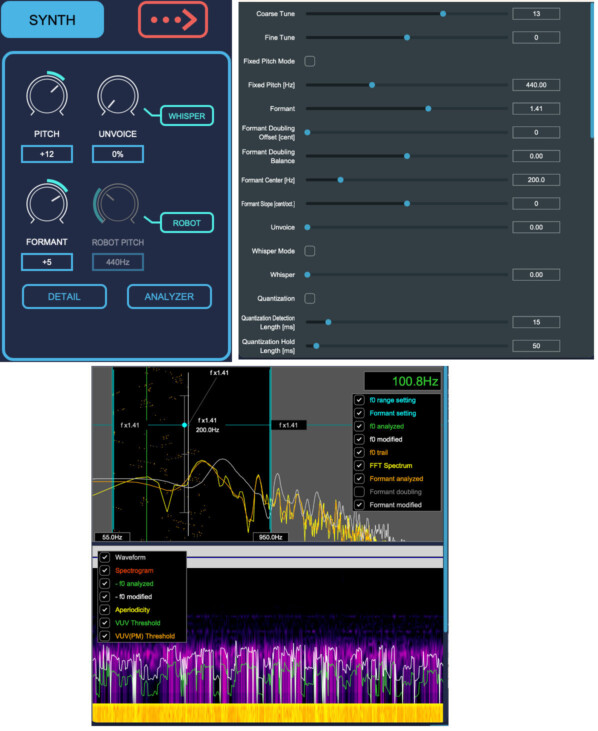 Freely convert voices with ultra-low latency
「SYNTH Mode」
In SYNTH mode, voice input, analysis, and conversion can be performed with an ultra-low delay of approximately 40ms.
Not only can you freely set pitch shifts up and down as much as 3 octaves and formant changes, but it also supports advanced conversion processing such as formant changes according to the detected pitch and formant transformation using unique methods.
Don't forget to try out the unique voice transformations like whispers, robot voices, and intonation inversion.


1. AI mode and SYNTH mode can finally be connected, realizing a phantasmagoric voice conversion!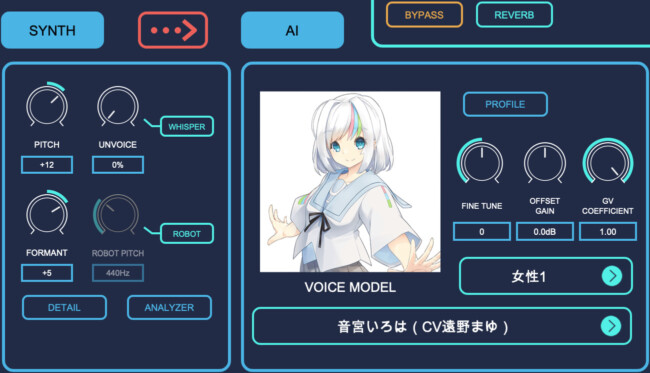 Equipped with a two-way connection function of AI mode and SYNTH mode that could only be used independently until now. By further changing the voice converted in SYNTH mode in AI mode, the conversion quality is greatly improved, and it is now possible to convert more naturally than Voidol2!
In addition, you can play in your own new style, such as converting character voices converted in AI mode into whisper voices and death voices in SYNTH mode.
Of course, it is also possible to enjoy only AI mode and SYNTH mode as before!

2. Significant addition of initial bundle characters! Enjoy the voices of a total of 13 lineups!

In Voidol3, the number of initial bundle characters has increased significantly to 13! You can try converting to various character voices immediately after purchasing the device!
Whether it's an online conversation with friends or a creative project, discover new ways to enjoy the unique character voices!
3. Significantly updated preset function!
Entire settings for both AI mode and SYNTH mode can be saved!

In response to the voices of users who pursue free expression, the preset function has significantly evolved!
Until now, only SYNTH mode settings could be saved as presets, but with Voidol3, settings using both AI mode and SYNTH mode can now be saved as presets.
By registering a combination of parameters and models that you have created as a new preset, you can call it up immediately when you want to use it.
Take advantage of the new preset features and enjoy dynamic communication in all situations, including game chats and online meetings!


4. New UI makes it easier to use! Transform your voice with intuitive controls!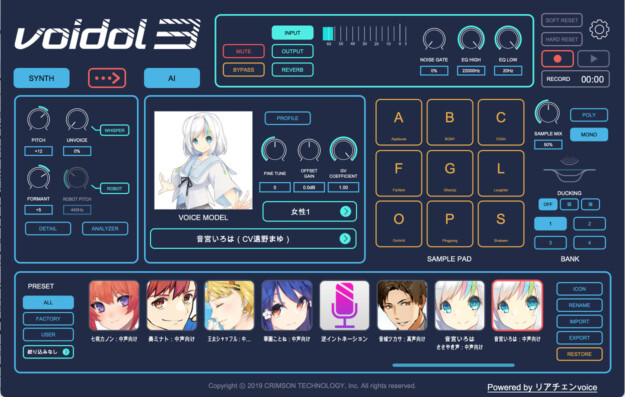 Visibility and operability have been greatly improved with a new user interface that has been redesigned from the ground up.
You can now adjust parameters while viewing AI mode and SYNTH mode at the same time, so even without specialized knowledge
Advanced voice conversion is now possible with just intuitive operations!
In addition, the operation methods have also been improved to make it easier to understand, such as turning modes on and off and switching directions with arrow buttons.
The possibilities for creating your voice are endless, depending on you!


※All information including product specifications, is current on the date of the press announcement,

but is subject to change without prior notice.

※Mac App Store, macOS, iOS, Audio Units is a trademark of Apple Inc.

※Windows is a trademark of Microsoft Corporation.

※R.C.voice is a registered trademark of CRIMSON TECHNOLOGY, Inc.

※Voidol is a trademark of CRIMSON TECHNOLOGY, Inc.

*※Described company name and product name are the registered trademarks or trademarks of each company.